Case Study
Spotify
Spotify Doesn't Miss a Beat with Help from ModSquad
Top-notch customer support is always on Spotify's playlist.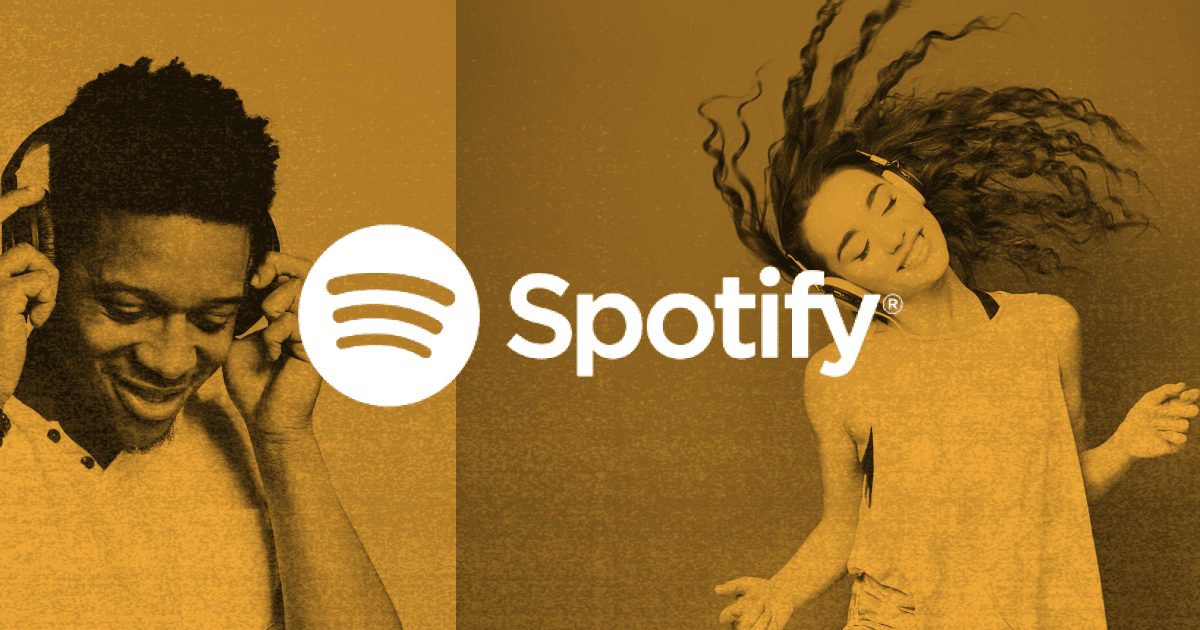 2x Faster Agent Ramp
1% Agent Shrinkage
87% Global Resolution
92% CSAT
Tier 1 and 2 Customer Support in 18 Languages from 67 countries.
The Challenge
Delivering High-Quality Customer Support on a Global Scale
Spotify is the largest audio streaming service in the world. With over 515 million users, including than 210 million Spotify Premium subscribers, this is where most of your friends listen to music and podcasts. Not only does this require providing high-quality customer support in 184 global markets, it also requires the capability to significantly scale for events such as Spotify's popular end-of-year "Wrapped" campaign.
The Solution
ModSquad's "Unique and Disruptive" Model
We were never a call center – we don't have that in our DNA. So our approach to outsourced services differs from other vendors. Julian Patino, Associate Director, Customer Service Operations for Spotify, describes ModSquad's model as "unique and disruptive".
ModSquad is switched on. They proactively identify and address issues. It's changed our operation for the better.

— Julian Patino
Associate Director, Customer Service Operations
Spotify
A Data-Centric, Proactive Partnership
Every CS project is informed by a detailed model. ModSquad plots the coverage and prioritizes the client's KPIs to deliver services as precisely and efficiently as possible. As the project continues and new data arrives, we use the model to look for opportunities for intelligent optimization and improved efficiency. We never see our role as simply resolving tickets. Our client's success is our success.
The Mod Network
Another key to our unique solution is our network of Mods. Our frontline crew is an internationally distributed team of CX experts. Our remote model frees us from being bound by geography or by scheduling consecutive 8-hour (full-time) shifts. It unlocks multiple benefits for our clients:
We hire the top 1% from the widest possible talent pool (the globe)
True business continuity (no co-location)
Precise, "no waste" deployment of services (full utilization)
Lower manager to Mod ratio (1:8 vs industry 1:15)
Built-in scalability (20-50%+ bandwidth in reserve)
The ability to quickly deploy services in any language in any locale
A Global Workforce
The fact that ModSquad embraces the remote model means that our Mods operate from anywhere in the world. On the Spotify project alone we have Mods in 67 countries providing support in 18 languages. Being truly global – not merely offshore – enables us to quickly assemble the top international talent for each project.
To operate and secure that distributed workforce, we deployed our proprietary remote-native secure CX platform powered by our patent-pending secure workspace, Cubeless. This is what enables matching exactly the right team and tools to Spotify's requirements.
Hourly Deployment and Billing
Another unique aspect of our approach is our hourly model. We schedule and deploy services by the hour exactly when and where they best serve our client's needs. We're not a staffing agency looking to place FTEs. The result is greater flexibility and control for our clients and, perhaps surprisingly, a much more consistent workforce.
The Results
Driving Quality Through Speed, Scale, and Consistency
2x Faster International Ramp Up
ModSquad is two times faster at deploying international customer support teams. In Spotify's case, one of the initial requirements was to stand up a support team of native Japanese speakers. ModSquad was able to recruit, onboard, and deploy the team twice as fast as other vendors. We're up and running in a matter of weeks, as opposed to months.
The secret, of course, is the distributed Mod Network. We're able to find the best talent for the job at hand and assemble a team quickly.
ModSquad has demonstrated the ability to staff for any language, line of business, or hours of operation needed.

— Mark Cohen
Senior Director of Global Operations
Spotify
40% Built-In, On-Demand Scalability
For a company the size of Spotify, scalability is critical, especially when it comes to key initiatives such as their popular end-of-year "Wrapped" campaign. Properly supporting Wrapped required increasing coverage by 40% for a single week before ramping back down.
ModSquad delivered. More importantly, ModSquad covered the event without having to recruit, onboard, and deploy a new workforce. This ensures that Spotify has experienced Mods delivering consistent, high-quality customer support to their subscribers.
1% Shrinkage
In the industry, the percentage of unfulfilled support hours averages around 10%. In other words, vendors typically fail to deliver 1 out of every 10 requested hours. The shortfall can be due to planned events (like agent vacations) or unplanned ones (like agent illness). By contrast, our network and built-in availability allow us to operate at a tenth of that. Our shrinkage hovers around 1%.
Reduced shrinkage leads to several benefits. It takes the guesswork out of forecasting. Spotify isn't stuck paying overtime to cover shortfalls. And most importantly, low shrinkage ensures a more consistent experience for Spotify customers.
Measurable Quality
So what does all this mean for Spotify? It's easy to claim that these fast ramp-up times, and the consistent, scaleable team improve customer support. It's another thing to show the quantitative impact on quality. ModSquad averages an 87% resolution rate and an average CSAT of 92% across all the markets we serve for Spotify.
Results like this, at this scale and scope, are a testament to Spotify's rigorous analytical approach to customer support and ModSquad's disruptive model.
Ongoing data-driven optimization
Of course, like every industry leader, Spotify isn't content with the status quo – and neither are we. There are always opportunities to improve KPIs and optimize operations. It's why we keep asking questions and testing new ideas.
"Having ModSquad in our partner network helped us challenge other partners and elevate how we operate," says Patino. "It's not just about ModSquad striving for better results, it raises the bar for our other CX vendors as well."
"For us, it's never really about just resolving tickets," according to Jay Averill, ModSquad Senior Account Manager. "We are always analyzing the data and workflows, testing and optimizing, to continually match their business needs. Spotify is an ideal partner – a partner that takes an industry-leading quantitative and analytical approach to CS."
"ModSquad is switched on. They proactively identify and address issues. They have a solid grasp of Spotify CS goals and vision, enabling an effective partnership and understanding of shared initiatives", according to Patino. "They are a trusted, invaluable partner. It's changed our operation for the better."
If you're ready for top-notch CX services, it's time to put ModSquad at the top of your playlist. Send us a message or book a time.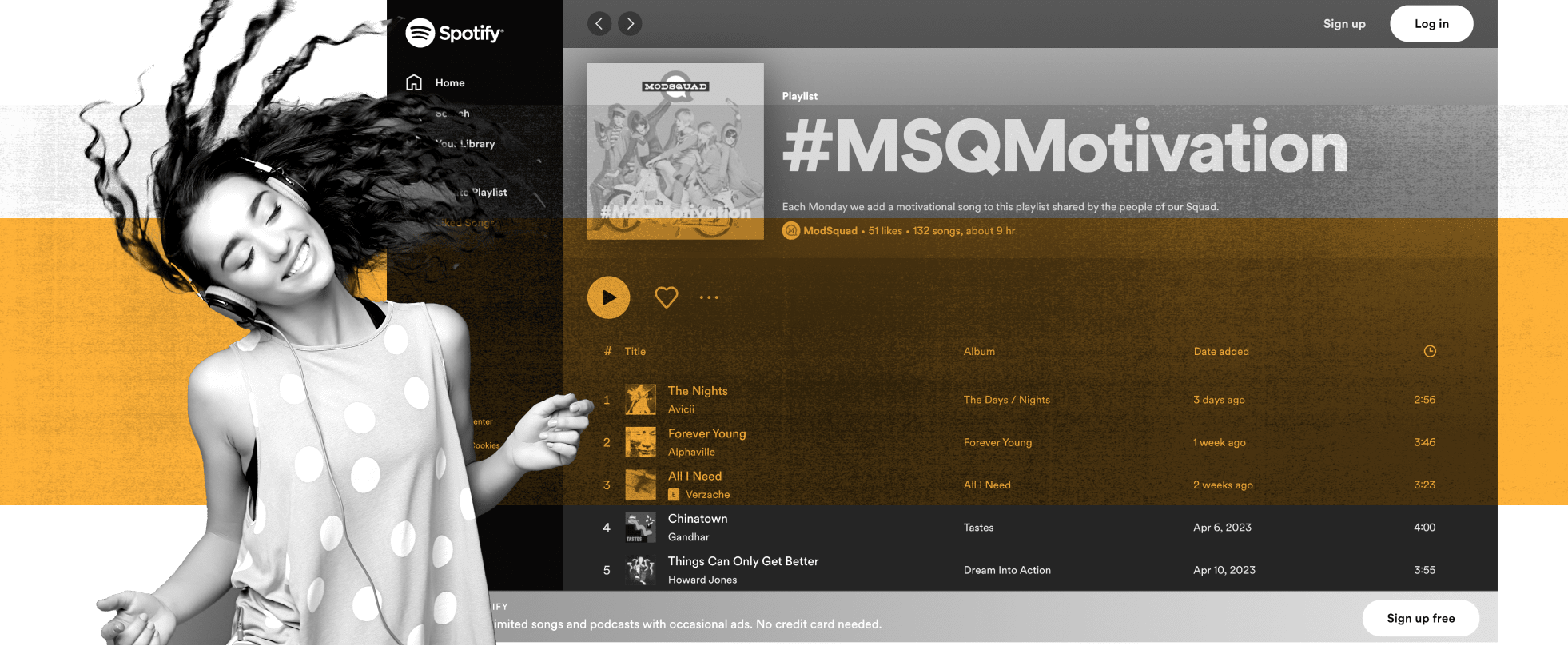 Give Us a Shout!
If you're ready for top-notch CX services like Spotify, it's time to put ModSquad at the top of your playlist.