Customer Experience Services
for the World's Best Brands
Spend Less. Deliver More.
Reduce costs. Gain control. Increase quality.
We deliver the highest quality CX services at the lowest hourly rates with the most flexible commitments. Thrive in today's economic environment, and stay ready for tomorrow's.
Give us a shout and we'll tell you how.
Our CX services are your superpowers.

Secure Every CX Interaction
ModSquad's patent-pending security platform
from the experts in remote CX services.
Traditional Outsourcing Doesn't Work
They're pushing phone booths in a mobile phone world.
We're two decades into the 21st century. Contact centers and BPOs are trying to solve today's modern CX problems with that call center and temp agency mentality.
It's time to upgrade to ModSquad.
Their one-size-fits-none solution.
The Buzz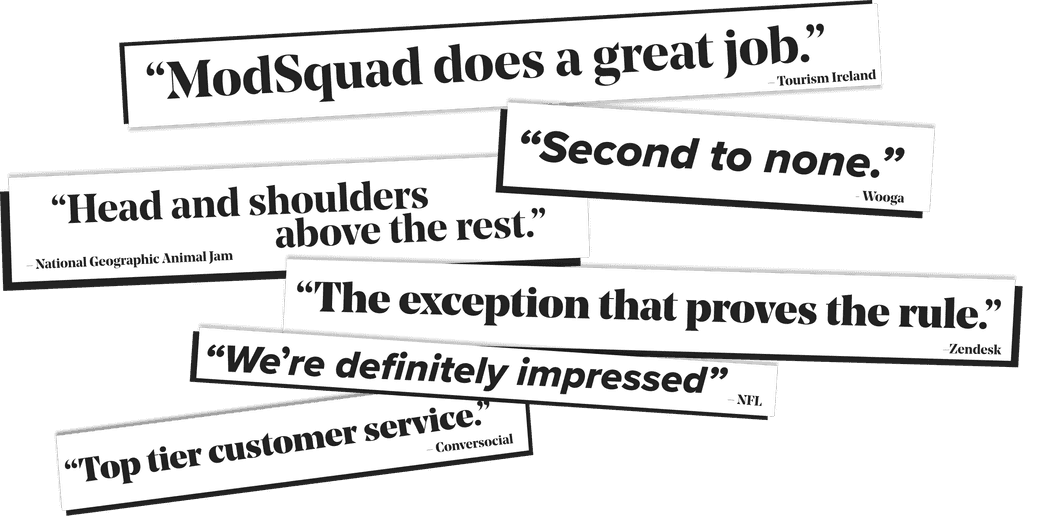 Sharp, savvy, and ready for anything.
We Are the Mods!
The Mods are our team on the CX frontlines helping customers and engaging communities. They're so amazing that it isn't fair to call them agents — so we don't!
Got what it takes to be a Mod?
We're always looking for great people to join the crew.
Call in the Mods!
Tell us about your CX projects and we'll tell you how we think we can help. No pressure — we're cool like that.
Still just looking around? Learn more about why you should hire us.