CX Services
Content Moderation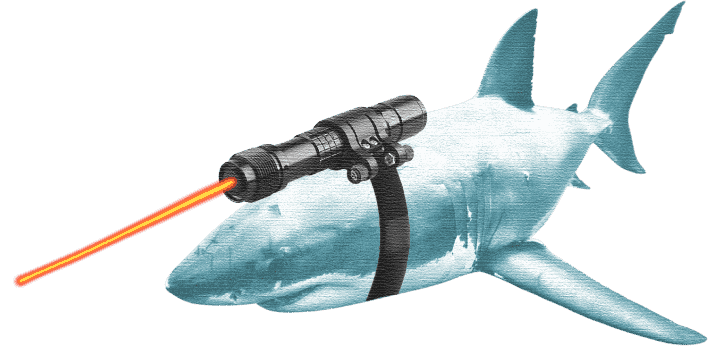 ... Like sharks w/ frickin' laser beams!
Trust the Original Content Moderation Company
Taming trolls since 2007.
We are the Mods!
When it comes to protecting your audience and safeguarding your brand, there's one clear choice: the company that pioneered moderation. We got our start when moderation was focused on forums and message boards. Most people weren't even on social, much less getting banned from it.
Moderation is why we started the company. It's in our name.
UGC is everywhere. Moderating it is business critical.
Content moderation is fundamental to trust and safety.
You need to moderate every type of content on every platform you're on: from text and images to video and live streams, from games to virtual worlds. You need that approach to extend to all the geographic markets and languages you support. You need it to scale.
Get it right and you lay the foundation for a safe, vibrant community. Get it wrong and any number of bad things might follow.
Where do you turn for help?
Traditional outsourcing isn't up to the task.
These days, everyone offers content moderation services: contact centers, BPOs, and even digital agencies.
They see moderation as a simple "staffing" problem. They assume it's easy — just delete the bad stuff, right? Their solution? Low skill FTEs.
Their "solution" didn't work for customer support. It doesn't work for moderation either.
Do they "get" your community and speak its lingo? Do they speak the languages your audience speaks? Can they scale up quickly when you need them to, or down when you don't? Do they understand online behavior? Are they improving your community or just punching a clock?
Relax. We're pros.
Real moderation requires seasoned pros.
Real moderation knows this isn't a simple staffing problem to be solved with a temp agency mentality. Moderation is much more than throwing FTEs at UGC.
Real moderation deploys Mods tactically by the hour to moderate content in the most efficient way possible. It prevents you from being shorthanded or overstaffed.
A real solution can scale up quickly when you need it, and back down when you don't. A real moderation solution gives you that control.
Real moderation requires context and care. It requires a team that understands your brand and your community. A team that also understands the complex matrix of online behavior. It knows what to look for early to prevent problems later.
A real solution keeps the community safe without stifling it. It allows your community to flourish.
Real moderation is more than just what you delete and what you approve. It's what you like and reshare, what you ignore and what you amplify.
Professional moderators know the right tools for the job. They understand cutting-edge AI and ML, and how to get the most of them.
A real moderation solution keeps you future-proof. It gives you the flexibility to pivot to new channels and platforms. (There's always something new.)
And professional moderation means protecting the moderators on the front lines by providing resilience and wellness services.
ModSquad is the original, professional moderation solution.
We've been bringing order to chaos in every type of community on every platform for over 15 years. We have the experience and hard won wisdom that comes from doing this job professionally. No one knows more about online behavior than us.
You can go with the other guys, but is it worth risking your community and your brand to amateurs?
Give us 30 minutes and we'll walk you through a professional moderation solution.
If you're looking at outsourced moderation, this is the best investment you can make.
Best Case
Your search for content moderation is over.
Worst Case
You enjoy a friendly consultation with a knowledgeable expert. We nerd out on your project, your data, your goals, and your KPIs. You walk away with a new way to model moderation costs and a slew of new bullet points for your RFP.
Not ready to chat? More of a reader? Keep scrolling for more information on our moderation solution.
---
Content Moderation as a Service
Tick every box on your RFP and then some.
ModSquad's Professional Solution
Experienced
Moderation is why we started the company. We've been doing it for amazing brands for 15 years. We're the original moderators — the Mods! No other outsourcer knows more about online behavior than us.
Customized
Moderation is never one-size-fits-all. We tailor our moderation to match your brand, community, and goals. We base it all on your data and your KPIs. And we tailor it to any platform and any type of content.
Scalability & Control
We don't just start with customization. We maintain it throughout the project, constantly tailoring our services to your needs. We give you the flexibility to scale up — or down — on-demand. Never shorthanded, never overstaffed.
Efficient
With over 15 years of experience, we know all the workflows and best practices to keep your project optimized and efficient.
Seamless Integration
Whether we're augmenting your existing team or running the show, we're experts in picking up the tools and workflows you prefer or recommending and deploying the industry's best.
Transparent
With our cost model and constant communication, you'll always know where your project stands and what to expect. No surprises!
Cost Effective
Don't be fooled by low hourly rates. We drive the true cost of moderation down.
If that went by too fast, here's more about how we're different from outdated outsourcers.
Capabilities
Any Content
We moderate every type of content on every platform. We moderate text, images, video, and live streams such as Discord. We moderate in games, in virtual worlds, and the metaverse. Web3 is our specialty: we offer moderation services for NFTs and blockchain.
All Levels
We have experts who can handle any level of moderation you require: review/approve/delete, social listening, engagement, and community management. They're capable of intervening at any time whether it is proactive or reactive.
Online Behavior Expertise
We've taken everything we've learned about online moderation and developed our proprietary Behavior Matrix. We identify and prevent the darkest behaviors such as grooming, radicalization, and terrorism.
AI & Machine Learning
We have the expertise to get the most out of the latest moderation tools. From setup and training to maintenance and quantitative, we'll make sure these tools are doing their job. And we'll be there to investigate the content they flag and adjudicate the gray areas.
Agency Support
When digital agencies need to scale for ad campaigns, rapid growth, or crisis management, they turn to us to augment their teams.
In Market
Get the languages you need in the regions you require. We have Mods in over 90 countries speaking over 50 languages.
Strategic Services
We're a full-service provider with expertise to assist with the whole customer support pipeline, including:
Moderation Guideline Analysis and Development
Cross-Platform Strategic Planning
Behavior Management Software Implementation
COPPA Compliance and Child Safety Best Practices
Security Compliance (HIPAA, PCI, SOC 2)
Chat and Safety Toolset Recommendations
Social Listening
Username moderation
---
We Deliver Top Notch Content Moderation for the World's Best Brands
And we've been doing it since 2007.
Your logo would look sweet up there.
Want to learn more about what we've done? Check out our Resource Library and our Blog.
Let's talk about your moderation project today
Give us a shout and we'll show you how you can stop compromising and get the control, quality, and cost effective content moderation you're looking for.
Still just looking around? Learn more about why you should hire us.
Your One-Stop Shop for Everything CXy