Customer Experience Services for
the World's Best Brands
Data-Driven.
AI Optimized.
Strategically Deployed.
Intelligently Outsourced CX Solutions
Everything starts with data. Our proprietary models power today's cutting-edge technology to intelligently automate and optimize your CX operations. Take efficiency to the next level while exceeding your KPIs.
Supercharge your ROI today.
Kind of like rocket science, but CXy.
Spend Less. Deliver More.
Reduce costs. Gain control. Increase quality.
Deliver the highest quality CX services at the lowest rates with the most flexible commitments. Thrive in today's economic environment, and stay ready for tomorrow's.
Increase CSAT and lower TCO today.
Our CX services are your superpowers.

The Most Secure Remote Workforce on the Planet
Our innovative platform securely supports the top 1% of global CX talent working on industry-leading technology.
The patent is pending. The benefits are available now.
From the experts in remote CX services.
RIP Contact Centers
Like the phone booth, the fax machine, and partially hydrogenated oils, it's time to say goodbye to stuff that doesn't work.
C-ya contact centers. Adios, agents. Buh-bye, BPOs.
Would you let these agents talk to your customers?
The Buzz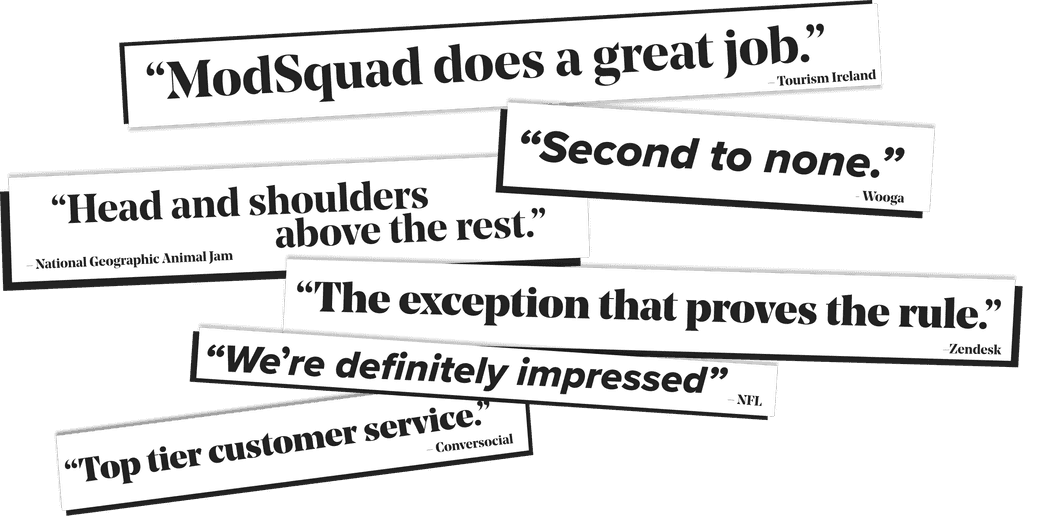 Sharp, savvy, and ready for anything.
We Are the Mods!
The Mods are our team on the CX frontlines helping customers and engaging communities. They're so amazing that it isn't fair to call them agents — so we don't!
Call in the Mods!
Tell us about your CX projects and we'll tell you how we think we can help. No pressure — we're cool like that.
Still just looking around? Learn more about why you should hire us.